Ephameron explores a sensitive side of the world, where small and intimate dramas of life are documented. She has published illustrations in a.o. De Standaard, De Tijd, L'Echo, Knack and The New York Times. Ephameron also curates and participates in group and solo shows all over the world. She holds master's degrees in both Fine Arts and Illustrative Design, and currently teaches at LUCA School of Arts / Sint-Lukas Brussels while preparing her PhD in the Visual Arts, researching autobiography in graphic narratives. "Wij Twee Samen" (2015), a book about her father's struggle with dementia, was met with critical acclaim. Her publication "re/collection" (2017) collects 320 pages from her travel diaries.
Ik laat u vrij
by Ephameron x CHVE

May 2019 – 12 euro – second edition - softcover with 56 black and white pages with full colour centerfold, xeroxed and stapled – text in Dutch

During the Amen & Beyond festival at Vooruit in Ghent, Ephameron and Colin H. Van Eeckhout (Amenra) met daily to process the day's events. The resulting text and images were collected in this zine they put together manually on a photocopy printer.


Order at Ephactory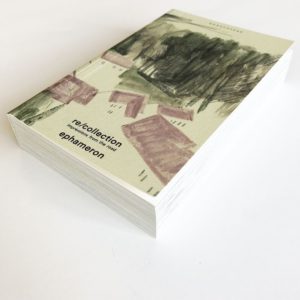 re/collection
by Ephameron

December 2017 – 25 euro – 10.9 x 17.1 cm – softcover with 320 full colour pages – no text
ISBN 9789492672025

This new book gathers a selection of impressions from the travel diaries of Ephameron. The artist uses observational drawing and painting as a way to engrave the memory and surroundings deeper into the brain. A compact but thick book, collecting 320 pages of recollections from 2011-2017.

Available from www.oogachtend.be